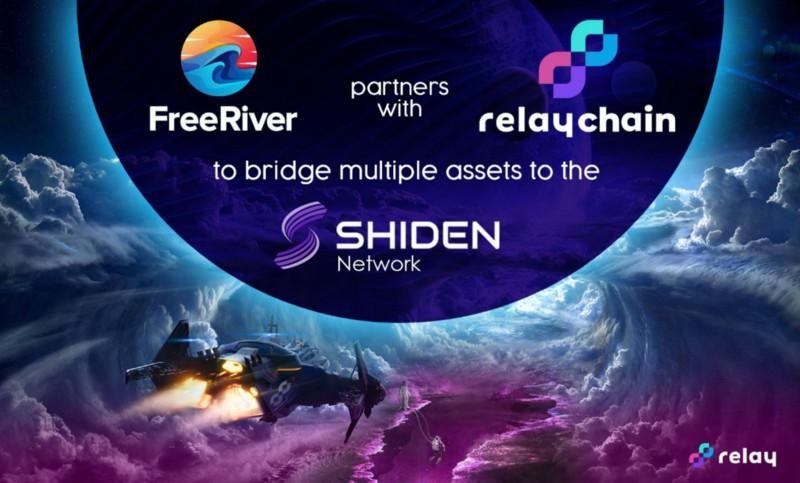 Miami, FL, 13 Oct 2021, ZEXPRWIRE, Relay Chain bridging partner Freeriver DEX on Shiden chain.
FreeRiver is now giving Shiden users an efficient portal to onboard new assets with the RelayChain bridge. DeFi enthusiasts will be able to quickly and safely bridge assets into Shiden from Moonriver, Avalanche, Polygon, BSC, and Fantom, and more to come soon.
FreeRiver was one of the first live and most trusted Decentralized exchanges on Shiden. Their DEX began its journey on Moonriver and looks to be a major player in the Kusama/Polkadot ecosystem. FreeRiver understands that trust, now more than ever, is vital for user confidence. This is why they have proactively completed a KYC process with Assure DeFi. Aside from being a decentralized exchange, FreeRiver can also boast the first charting utility on Moonriver. Other utility for the Free token includes IDO access. The team will also soon release an innovative NFT gaming platform known as "Dragon."
RelayChain enables fast and secure cross-chain token transfers between the world's leading blockchains. The platform offers Bridging as a Service (BaaS) to partner dApps wishing to expand their footprint beyond a single chain. RelayChain currently supports bridges between any combination of Moon River, Ethereum, Polygon, Binance Smart Chain, Avalanche, Fantom , Shiden, and Huobi ECO Chain. Multiple other networks including Polkadot, Cosmos, and Arbitrum will be added in the near future. RelayChain boasts the fastest bridging experience with the fewest stuck transactions!
https://www.youtube.com/watch?v=gdGzdMUuaV0
What can RelayChain and FreeRiver accomplish together on Shiden? Until now, there was no way to bridge EVM assets to the Shiden network from other ecosystems. There is also a bit of a learning curve when it comes to withdrawing Shiden token from a centralized exchange to the EVM side of the network. RelayChain will also have an auto-faucet to drop enough SDN to make their first transaction. This only applies to wallets that have never made a transaction on Shiden. FreeRiver will be hosting incentivized rewards pools for these newly bridged assets. Existing and new Shiden DeFi users now have a much needed avenue to not only onboard new assets, but also a way to put them to work. Farms will begin today, and multiple incentivized pools will go live as liquidity begins to build. The first pair will be FREE/SDN, stablecoin pairs, other native "gas token" pairs, and a Relay token pair.
How to get started:
How to add Shiden chain to Metamask wallet.
https://www.youtube.com/watch?v=m1W8LpnnWPE
How to bridge Movr from Moonriver to Shiden Blockchain.
https://www.youtube.com/watch?v=2FYYm7Ea93g
About Freeriver
| Freeriver DEX on Shiden | Freeriver DEX on Moonriver | Twitter |
| Telegram |
About RelayChain
The race to bridge DeFi is over with RelayChain. Almost instantly add cross-chain swaps to any DEX or dApp. Earn bridge fees in ETH, MATIC, DOT, BSC, AVAX, HECO, MOVR, FTM, SDN and more. Become a partner with the most interconnected name in DeFi and secure your bridge benefits early.
Our readable whitepaper: Bridging as a Service for DeFi by RelayChain Downloadable whitepaper: Bridging as a Service for DeFi in PDF
Relay Chain bridge uniting the most popular block-chains.
Media Contact
Company: RelayChain
Website: https://www.relaychain.com
E-mail: [email protected]
Twitter: https://twitter.com/relay_chain
Reddit: https://www.reddit.com/r/RelayChain/
YT: https://www.youtube.com/channel/UC8q_XLKQtI-x5PUa4Rg3RrQ/about
Telegram: https://t.me/relaychaincommunity
Discord: https://discord.gg/XtZTNVTX5T
Blogger: https://relaychain.blogspot.com/
WordPress: https://relaychain.wordpress.com/
Tumblr: https://relaychainbridge.tumblr.com/
Source: FreeRiver Exchange Partners with RelayChain to Bridge Multiple Assets to the Shiden Network
The post FreeRiver Exchange Partners with RelayChain to Bridge Multiple Assets to the Shiden Network appeared first on Zex PR Wire.
Information contained on this page is provided by an independent third-party content provider. Binary News Network and this Site make no warranties or representations in connection therewith. If you are affiliated with this page and would like it removed please contact [email protected]